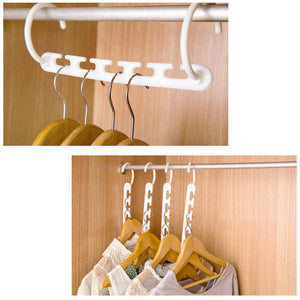 Are you still worried about your wardrobe space?
Are you still depressed for not finding a suitable storage tool?
Plastic Magic Hangers can be hung horizontally and vertically to save more space in your wardrobe.
Features:
Save Space- You can hang your clothes in the Closet Organizer Hangers vertically and make a tiny closet usable and give you a lot more closet space.

Non-slip Design

-Our hanger is designed by hollow and prevent your clothing from getting tangled.

Sturdier Than Metal Hangers

-Clothing organizer hangers are made from plastic, sturdy and lightweight.Compared with metal ones, they hold up to the weight of your clothes with ease.
Convenience for clothe classify-When you use these magic hangers, you can put the same clothes together and easily find what you're looking for.

Widely Application

-

 

Suitable for any type of hanger or wardrobe. A college student tries to make the most of the limited space in the dormitory, the small wardrobe in the apartment, or anyone trying to clean up the home wardrobe can find that this hanger can save space.

Package include:
1PCS*Wonder Hanger

2PCS*Wonder Hanger

3PCS*Wonder Hanger

4PCS*Wonder Hanger