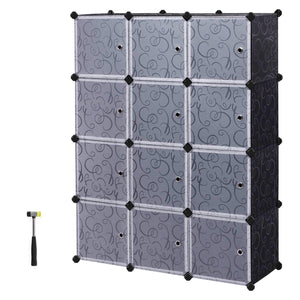 Brand: SONGMICS
Color: Black Ulpc34h
Features:
DIY WARDROBE: This 12-cube Plastic Wardrobe can be assembled into different style to meet your various needs of organization, fit rooms from entryway, closet, mudroom or bedroom and enjoy the fun of DIY
MULTI-USE CUBE ORGANIZER: Each cube size 13 3/4"L x 13 3/4"W x 13 3/4"H (35 x 35 x 35 cm), this Plastic Storage Cabinet not only can hold folding clothes, fabric drawers, bags, but also can hold books, CDS, yarns and toys
ECO-FRIENDLY MATERIAL: Constructed from ABS connector, PP plastic panel, this Cube Organizer will be Eco-friendly and harmless to both you and your pet; Rust-proof iron frame made the panel easy to maintain
STRONG STORAGE ABILITY: With 10lbs load-bearing for each cube, this closet can hold clothes from spring to winter to meet your long-term storage needs; dust-proof PP Plastic Doors with metal ring design for easily opening and closing
100% SATISFACTION GUARANTEE: We are always available to provide a professional customer service before and after your purchase, don't wait any longer and enjoy it right now
Publisher: Songmics
Details: This SONGMICS DIY 9-Cube Organizer with doors will help you keep your home neat, tidy and organized, offer ultimate convenient for your household organization. This Songmics closet organizer is versatile and can be used for storing all sorts of items such as artworks, toys, books, folding clothes or other household necessities. You can assemble this item into different style to satisfy your carious storage needs.We still carry set of 6 fabric drawers in 3 colors to match this shelf, you can search "Songmics Fabric Drawer" and purchase at the same time.Specification:- Color: Black Panels, White Doors- Assemble Required: Yes- Material: ABS connectors, PP Plastic Panel and Rust-proof Metal Frame- Size for Each Cube: 13.8"x 13.8" x 13.8"(35 x 35 x 35cm)- Overall Size: 42.9"L x 14.2"W x 42.2"H (109 x 36 x 109 cm)- Weight: 17.3lb (7.86kg)Parts List:- 33pcs A1 Panels: 13.8" x 13.8"/ 35 x 35cm (L x W)- 9pcs Doors: 13.8" x 13.8"/ 35 x 35cm (L x W)- 32pcs Connectors: 1.4"(3.5cm )(Diameter)- 2 Sets Anchors- 1pc HammerShipping List:- 1 x Storage Cube- 1 x Instruction- 1 x Wooden HammerSONGMICS Notes:- Do not place the item outdoors for extended periods of time to avoid weathering.- Keep round edge with "SONGMICS" logo of plastic connectors facing outward during assembly.- All plastic sheets should be pressed to the bottom during assembly, after each layer is finished, firmly press each connector to make sure the wire corner reaches the bottom with no gap to add firmness.
EAN: 6955880365685
Package Dimensions: 17.5 x 15.0 x 8.8 inches