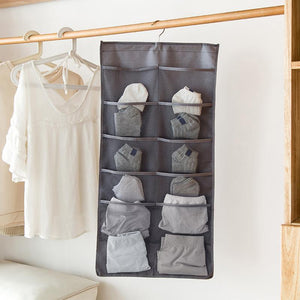 About Product
Material:  Made with sturdy environmental friendly oxford fabric, which ensures that it doesn't tear or snag even when utilized to maximum capacity. 

Extremely durable oxford fabric + Breathable large mesh pockets, One side with 12  

medium

mesh pockets, another side with 5 large mesh pockets

The pockets are six inches square and open out, big enough for your largest padded bras

Removable sturdy metal hanger included, Height: 33 3/4", Width: 17 1/2 INCH

Ideally sized for bras, scarves, pantyhose, underwear and roll up t shirts

Hangs in your closet and takes up a small amount of space, easy to roll up to pack in luggage during travel

Use space efficiently and be creative with hanging closet storage.
Tired of stuffing bras and underwear in random places, only to forget where you have put them later on 
This Durable Hanging Closet Double Sided Bra Stocking Clothes Socks Organizer with Large Mesh Pockets is the ideal way to stay organized with minimal effort!
Features
Removable Solid metal hook assures sturdiness

, so you can 

easily hang it up inside a cupboard or closet. 

Ultimate storage solution with 

dual-sided organizer 

and 

different pockets on each side

 a total of 

17 

spaces at your disposal!
Transparent hanging closet organizer pockets make it easy to locate items even in a dimly lit closet.
Usage
Hanging closet storage pockets designed to hold a variety of items starting from underwear and bras, to socks, ties and chunky jewellery. 

You can also use as a hanging electronic storage for all sorts of electronic devices such as wires, connectors, USB cables, chargers and adapters. Also Great for storing accessories, hosiery, and bath items. 

It also can used to storage cell phones in classroom. One small pockets hold at least 3 Iphone 5.

Water washable, can be use in bathroom to hold toiletries, shaving cream, razors, deodorant, brushes, combs, etc.
Warranty
1-year warranty, buy with confidence.

In case the item you received is wrong, please take photos and contact us. We will send you a correct one.

If you're not satisfied with the item while it is in good condition, please return it to us within 30 days. We will either send you a new one or give your money back.

If the item doesn't work after 30 days, please take photos or videos and contact us. We will send you a new one as soon as we receive the defective item
4 Great Reasons To Buy From Us