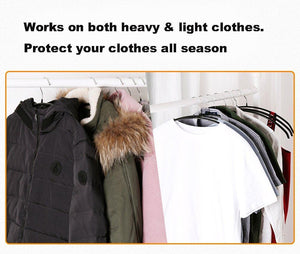 Brand: Russell
Color: Black
Features:
No More Shoulder Bumps - With the Bump Free arc-shaped design, conform to the body curve, hang clothes in their natural form, prevents clothes from shoulder bump.
Anti-slip Dipping Plastic Coating - Provides a non-slip surface that holds garments in place without slipping or falling off, gentle for all types of clothing!
Safe with Smooth Egdes - Smooth and delicate without sharp edges pretect you and your clothes well.
Pants Clips - Upgrade with pants hanging bar & strong clips with non-slip coating. Hanging your pants with ease
Hold up to max 15 pounds - Ultra durable for long lasting, Hold up to max 15 pounds heavy clothes like sweater, adult's coats, sweaters, suits, shirts, skirts, dresses, pants and garments, scarves, shawls, belts, bra etc.
Publisher: RUSSELL
EAN: 8011511064520
Package Dimensions: 18.0 x 8.0 x 3.0 inches