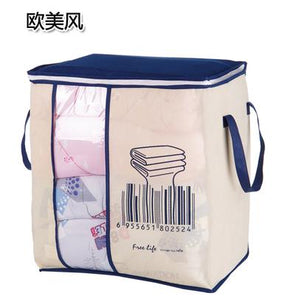 Finish Clutter and Mess!
Sort out your clothes, shirts, underwear and bed sheets in a neat manner!
Portable Folding Clothes Storage Quilt Bag Organizer, Zippered Closet Organizer Bags
Useful Space Saver Reusable Clothes Organizer Storage Bags.
Great for Clothes, Blankets, Pillows, Quilts and Bedding Items!
Try these quilt organizing bags and have a neat room! 
·               It's nicely clear windows provide easy viewing, facilitating the search for your items inside the bag 
·               High-quality non-woven material, soft and breathable. It is now your time to go for and make the good use of a helping product. Handy double handle to facilitate the extraction of all kinds of clothing and bedding that can be stored 
·               Widely large and transparent window design and large openings, it fits three-bed quilts within and it is easy to see them and pick them up 
·               With its handling design, bags offer easily moving both sides and double zipper seal for an even better product's handling condition 
·               All clothing and bedding sheets can be stored in these space-saving useful organizing bags 
·               Non-woven material, dust-proof and moisture-proof 
·               Zipper closure, keeps dust or moisture out. Organizing Bag can be folded flat when not in use 
Notes about this product's shipping status:
·               Dear client, this is an international free-shipping product
·               It ships from our overseas warehouses. Depending on your destination country, delivery may take three to four weeks to get to your door. In most cases, it arrives far sooner than that.