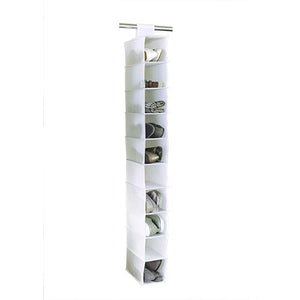 Unique and multi-functional unit measures 5.5"W x 11.5"D x 52"H (14cm x 29.2cm x 132.1cm)
Innovative design with 10 large storage squares
Built to last from durable materials with each shelf holding up to 3 pounds
Comes in white to coordinate with any design style or color palette
Features a tab at the top for attachment to a closet rod
Tab fits most closet rods
Use for anything from all types of clothing to shoes, purses, hats and much more
Stylishly and efficiently add extra garment storage to any closet space with this Multifunctional Nonwoven 10-Shelf Closet Organizer. Designed to provide you with an efficient way to utilize your closet space, these handy organizational pieces boast 10 stacked square shelves made from durable materials that will hold up to everyday use and stand the test of time. Perfect for placement inside your existing closet system, these innovative 10-shelf closet organizers are designed to make the most out of what closet space you have, whether a little or a lot. A durable tab at the top easily attaches to any closet rod, and each shelf can hold up to 3 pounds each. The organizers come in white to suit any design style or color palette. Whether for clothing, accessories, shoes or whatever else you need to store, Nonwoven 10-Shelf Closet Organizer is sure to provide you with the storage solution you've been seeking.