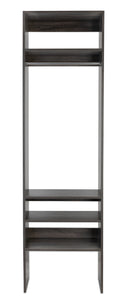 Modular Closets Wood Hanging Shelf Tower Closet Organizer Section is an all plywood closet shelf and short hanging kit. Use the shelf tower to design your dream closet. The Modular Closets Hanging Tower is great for organizing clothes, shoes, purses, and collectibles. Drawers can be added to the bottom section as well as additional shelves for shoes
The perfect unit for organizing suits, shirts, and pants. The hanging shelf tower is designed to give you hanging space, large enough to accommodate up to 42" long garments. The top shelf can be used to store hats and purses.
The tower is 72" tall and comes with 12" optional floor support legs.