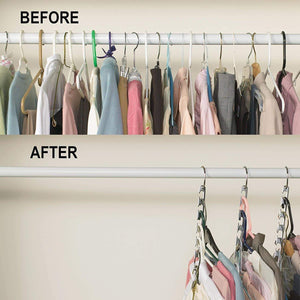 Brand: Mishen
Color: Silver
Features:
Multi shirt hanger Keeps clothes organized and wrinkle free.
Works like magic for more than just clothes hangers - space saving durable chrome hangers for coats, purses and more
Metal clothes hangers won't warp, bend or lose their shape over time - making them great for tight spaces
Ideal for apartments, dorms, or anywhere coat hanger space is limited. Great for use as a purse hanger for closet too!
Complete 6 piece set of durable metal clothes hangers can be used together with wood hangers, wire hangers and plastic hangers, like magic
Publisher: Mishen
Details: Still worrying about your messy wardrobe?

Do you need extra space in your closet?

Are you looking for a suitable helper to organize cabinets?

Let the Mishen Cloth Hangers help you! This is a magic hanger that can save more spaces for your closet system,
and it is an expert in clothes classification as well!

Product Details
Brand: Mishen
Product Size: 10.5*2.13*3.3 inches
Package Weight: 1.5 pounds
Material: stainless steel, plating process
Packing: 6 X Cloth Hanger
Range of Application: Apartment, Dormitory, Clothing Shopping Mall

Why Choose Our Mishen Multifunctional Clothing Hanger?

Unique Design

Mishen cloth hanger is an excellent wardrobe closet organizer which could effectively
maximize the space of your closet system - so you don't have to throw your
clothes out to make more space! It provides excellent functions especially
suitable for closet wardrobe of small storage room, compact apartments,
and college dorms, RV or holiday home

Strong and Sturdy

The space saving hangers are made from high-quality metal material,
which strong and sturdy enough to ensure safe and luxurious closet organization

U-Type Big Slots Cloth Organizer

1.6 inches slot hook mouth can apply to a wide range of wardrobe rods.

Both for Commercial and Domestic

Our magic hangers can be used not only household but also suitable for fitting rooms
in clothing store or shopping malls.
UPC: 736561508111
EAN: 736561508111
Package Dimensions: 10.9 x 4.4 x 1.6 inches