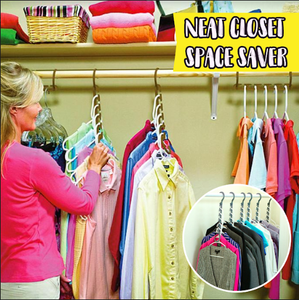 Our Closet Organization Hangers are your best choice to save your closet space.  Max Hangers is an excellent wardrobe closet organizer which could effectively maximize the space of your closet system! It provides excellent functions especially suitable for a closet wardrobe of small storage room, compact apartments, and college dorms, RV or holiday home. You can hang your clothes in the Max Hangers vertically and make a tiny closet usable and give you a lot more closet space. This hanger space organizer is non-slip designed and it prevents your clothing from getting tangled. Clothing organizer hangers are made from sturdy and lightweight material, enough to ensure a safe and luxurious closet organization. Won't warp, bend or lose their shape over time - making them great for tight spaces.
They hold up to the weight of your clothes with ease. When you use these magic hangers, you can put the same clothes together and easily find what you're looking for. The hangers hooks are big enough (1.69 inches) to fit wider closet rods; very handy for making room in your closet. If hanging them horizontally, you could help your clothes to be organized, tidy and wrinkle-free with these hanger organizers. Open the wardrobe, then pick up what you want in a second. No longer a waste of time in the morning preparation. Using our upgrade wonder magic hangers, save your closet space more than 85%. Say goodbye to your crowded closet! Open a bright and ease morning.
Features:
Space Saving Hangers for Clothes

Anti-Scratch and Non-Slip Design

Quadruplet Closet Space

Sturdy and Lightweight

Large Hook Opening

Saves Space More Than 80%

360-degrees Access, Add/Remove Clothing Quickly and Easily
Specifications:

Material: PP

Color: White

Size: 2.75" x 9"
Package Include: