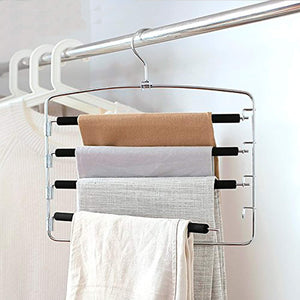 Brand: Lucky Life
Features:
[GENIUS DESIGN]-Multi-layer design, swing hanger, removable, this cloth hanger can easy to move the line out. This design can make much easier to put the pants on the hanger, you will fall in love with it.
[PERFECT FOR YOUR CLOSET]-Very sturdy hangers that are great for saving space in your closet, perfect for pants, jeans, scarf, dress, slacks, capris, table cloths, and t-shirt...you'll have way more room in your closet for everything else.
[EXACTLY WHAT YOU ARE LOOKING FOR]-Practical, Useful, Long Lasting, Easy to Use, Space Saving, Non-Slip, 1 year guarantee, buy it with confidence.
[CLOTH DO NOT SLIP OFF]-Environmentally friendly EVA foam, non-slip, no fading, the clothes are balanced on the hanger and will stay in place until you wear them next.
[PREMIUM QUALITY]-Stainless steel metal, advanced plating process, superb welding technology, superior load-bearing capacity,not some cheap plastic that will bend or warp over time, they are strong, durable, sturdy, look awesome.
Publisher: Lucky Life
Details: The best hangers for pants-No more messy
They are perfect for helping you save some space in you closet
Premium quality! Great look & feel
The hanger arm swings out making it easier to hang the trousers
Versatile slim design
Prevents wrinkling
Each hanger holds 4 pairs of pants

Space Saver Pants Organizer
You invest time and money into your pants so, naturally, you want to store them in a manner that keeps them easily accessible and safe from wrinkles and creasing
But the biggest problem is that there is no place to put cloth in your closet
How to make the most of the space, choose the best multi layers pants hangers, can solve your current troubles easily

TIPS
Lucky Life aims to bring high quality products and enthusiastic service to customers. If you have any problems, please contact us and guarantee unconditional refund and resend a new products as our little compensation
Thanks for choosing Lucky Life
UPC: 735935179193
EAN: 735935179193
Package Dimensions: 16.0 x 11.6 x 1.9 inches