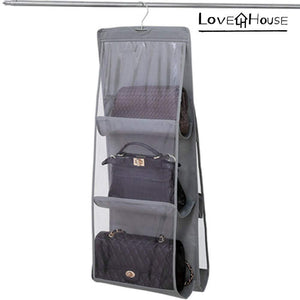 Brand: Love In The House
Color: Grey
Features:
EFFICIENT ORGANIZING TOOL: for handbags, bag packs, purses, blankets, sheets, towels and other bedroom and bathroom accessories.
CLEAN & CONVENIENT: Hanging in wardrobes and closets to save spaces and prevent from dust. Durable and light material to keep family items clean and convenient.
SAVE SPACE INDOOR: Suitable for different places, Students who needs to save space in their dorms; ladies who needs more organized wardrobes for their handbags and purses; families require a clean space for towels, blankets and sheets;
6 LARGE STORAGE POCKETS: made of non-woven fabrics, washable, light, and durable, 36''x14''x14''. Sturdy stainless steel hooks included for greater weight.
WE PROMISE: If you are not satisfied with the product, please contact the customer service executive, and we will refund for you as soon as possible
Publisher: Love In The House
Details: 3 colors to choose from

Efficient tool to save space in your wardrobes and closets

For family and university students who needs space saving tools

Washable and durable fabrics with stainless steel hooks.
EAN: 5712443031132
Package Dimensions: 14.5 x 9.6 x 0.9 inches