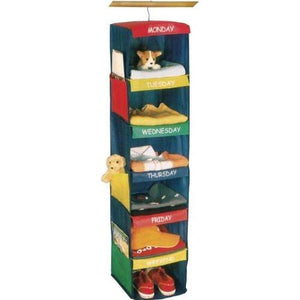 Made of 100% Cotton Canvas
6 Shelves labeled Monday - Friday and Weekend
12 Shoe Pockets/3 Side Pockets
Rotates for easy access to pockets on all sides
Measures 11"L x 11"W x 58"H
Choosing clothes for the week shouldn't be a constant struggle! Now with the Days of the Week Kids Hanging Closet Organizer, you can help your child prepare for the upcoming week and never have to worry about color coordination again! With six large compartments to hold clothes as well as three pockets for added storage, organizing a closet has never been so simple! And with each compartment labled Monday-Friday and Weekends, you will always know what day needs what! Mornings will be a breeze from now on!