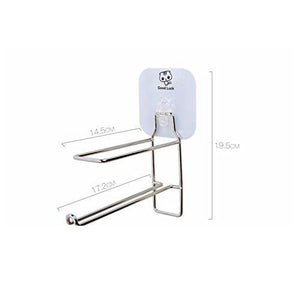 Brand: WanYi
Color: White
Features:
High quality of stainless steel material,smooth,safe without scratching.Adhesive wall hooks, heavy duty,sticky wall,nails free.
This is a good helper to prevent breaking and tangling of hangers.
Upper and lower two levels,upper for some clamps,lower for clothes hanger. simple and orderly.
The adhesive wall hook is suitable for any smoothly wall.Glass wall,ceramic tiles wall, wooden wall and so on.
Size: 14*5*18.5 cm, weight: 190 g
Publisher: WanYi
Details:
Having a highly unorganised closet or laundry room can be drive anyone mad. Be frustrated no more as our hanger stacker is here!
- Neatly stores your extra hangers, preventing tangling, breaking or disorganised misplacing
- Sturdy and durable with a great capacity of 20 hangers
- Extremely easy to assemble and maintain
- Solid, no rust, premium stainless steel material with a stylish grade silver
Our wall mounted holder and closet organizer neatly stores your extra hangers to eliminate all the existing mess around your household.
Suited for plastic hangers, it has great sturdiness and will not fall easily unlike others, while also has a great capacity that can hold and organize up to 20 hangers!
If our stacker does not eliminate your problems in one go, feel free to return them and get your cash back within 30 days!
Click the ADD TO CART button to get yours now!
Specifications:
Product Dimensions: 5.5 * 1.96 * 7.28"
weight: 190 g
EAN: 6566419435597
Package Dimensions: 7.2 x 5.7 x 2.0 inches