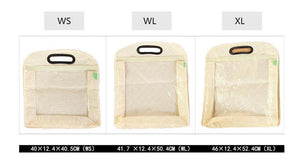 Have you ever ruined one of your favorite handbags? Devastation! It doesn't matter how much you paid for your handbag, the bottom line is you love it and want to keep it in mint condition! The goal is to keep your handbag looking great and truly get your money's worth out of it. Our bag storage is the perfect solution to keep your handbags looking their best.

Keep your handbag away from water, dust and direct sunlight.
With the clear see-through design, you save time by easily selecting the right bag for
any occasion
Save space. Hang the handbag storage in your closet or over the door for convenient
handbag and purse storage; perfect closet organizer idea!