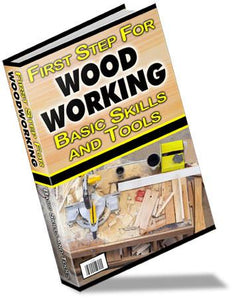 "I Could Make That Myself!"
Do You Have an Interest in Woodworking?
Want to Save Money and Time on Home Improvement Tasks?
Wish You Could Create Toys, Furniture or Fix Items for Friends and Family?
Become the ULTIMATE Do-It-Yourselfer by Discovering Woodworking Basics!
 Audio MP3 AND PDF Included!
Dear Woodworking Novice,
Do you find it frustrating when you want to finish a home improvement or decorating project like adding shelves to a room or finding the right size bench for your entryway, but lack the skills to do it yourself? Do the costs of custom pieces or built-ins shock you? Do you think "I bet I could make one myself, if I only knew where to begin!"
Are you the kind of person that likes to figure out puzzles and get their hands dirty? Do you have a driving sense of curiosity and like new challenges? Woodworking incorporates many of these natural skills and talents and if these sound like you than you've been missing out on a great way to save money and get exactly what you want! 
 "What Do I Need? Where Do I Start?"
There are lots of projects you can do, even if you're a beginner. Simple projects make everyday improvements easy and are a great way to build your skills for more ambitious items like furniture or cabinets. However, even simple projects require a basic knowledge of woodworking, supply of tools and workspace to set up.
These 'first steps' will prepare you for the multitude of projects you'll want to take on. Picture frames, children's furniture, closet organizers - you name it! What's the proper technique to ensure the joints stay together and don't fall apart? How do you prep wood for paint or stain so your finished piece looks beautiful for years to come? What basic tools will you need on hand so you can finish what you start?
How frustrated you'd be if after days of working on a project you realized you'd missed a step and the piece had to be pulled apart or worse - start over from scratch! Better to find out now the basic steps so you can proudly say "I built it myself!"
 "First Step for Woodworking - Basic Skills and Tools"
Where do you begin? What tools do you need? How do professionals ensure they are operating safely? What common mistakes should you avoid? These are all fundamental questions you need the answers to BEFORE getting started. Once you know the answers all you have to do is decide what project you're ready to tackle!
So where can you find the answers? Simple - the 'First Step for Woodworking - Basic Skills and Tools' answers these questions and many more. Find out what you'll get in...
First Step for Woodworking - Basic Skills and Tools…
Safety Tools and Tips for the Workshop
Professionals make certain that safety is routine when working with tools - here are tips to keep you safe around the workshop or workspace.  
Essential Hand Tools for Woodworkers
With the vast selection of tools available where is a beginner to start? What basic tools are necessary for completing your projects?  
Essential Portable Power Tools for Woodworkers
Find out the basic power tools every woodworker should have in his or her arsenal!  
Common Woodworking Mistakes and How to Avoid Them
What could you be doing to jeopardize your projects? Find out now and save yourself the headaches of learning the hard way!  
How Adhesives Are Used in Woodwork    
Only thought you needed nails and wood? Learn the proper way to use adhesives and how they improve your results!  
Drilling Basics and Skills
Don't waste valuable materials because you didn't know these basics - learn the proper way to drill without splitting the wood or other disasters.  
How and When to Use Fasteners    
You'll want to know how to fasten pieces so they stay on!  
How to Make Joints That Fit
Misaligned joints can be a huge frustration! Don't ruin your projects when you can find out how to make joints that fit perfectly!  
Sanding and Shaping Your Project    
Don't leave your job unfinished - learn the first step to sanding and shaping your projects for a beautiful finish.  
Filling Tips for Finished Projects
Just one of the secrets professionals use to obtain a finished product.  
Basic Application and Choice of Stains
When do you use stains? What type is good for your project? How difficult are they to apply?  
Basic Application and Choice of Paints
You may ruin your project if you slap a coat of paint on without understanding how it will react to weather, wear or moisture. Find out the proper way to paint!  
Protecting Surfaces with Top Coats
Protect tables, shelves and outdoor items with the RIGHT top coat!
    
What You'll Also Get…
Tips for Organizing Your Workspace
Find out how an organized space saves you time and helps keep your workspace safe.  
How and Why You Need to Plan Your Projects
Lack of planning leads to poor results. Learn these tips for planning your project successfully!
 "Is the Home Improvement Store Calling Your Name?"
Read the book and create your shopping list for basic tools; come home and set up your workspace (whether it's a corner or a whole room). Decide on your project, get the materials you need and get to WORK!
You'll probably find that your first stop Saturday morning becomes the local home improvement store as you build your skills and come up with new ideas and projects to work on for yourself and others. Get the custom closet you want - finally build that bookcase or create a charming toy box for the kids - you'll find a project at every turn!
Before you get too excited though, download 'First Step for Woodworking - Basic Skills and Tools' right now!
This book is filled with so much value you are
GUARANTEED to appreciate the information
or get a FULL REFUND – no questions asked!  
 Download Your Personal Copy of 'First Step for Woodworking - Basic Skills and Tools' and Start Applying this Knowledge Today!  
Audio MP3 AND PDF Included!
Only $9.95!

Rich PLR
P.S. Don't forget that another day without using the advice available in 'First Step for Woodworking - Basic Skills and Tools' means one more day of putting off that project - or spending money letting someone else to do it! If you know you have the ability to learn to do it yourself, get your copy of 'First Step for Woodworking - Basic Skills and Tools' Today!