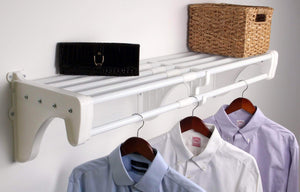 Brand: EZ Shelf
Color: White
Features:
Expandable Length: 40 in - 75 in., 12 in. deep, 12 in. high
Design: 6 Expandable Steel Tubes (per shelf and rod) & Molded Plastic Parts
Installation: Floating unit - No Sidewalls required - Mounts to Back Wall
EZ Install: No Cutting. Hardware Included. NOT A TENSION SHELF - mounts to wall
Made in USA - Holds up to 200 lbs/shelf Without securing to studs
Publisher: EZ Shelf - The Best Closet & Garage Organizer - Tube Technology
Details: EZ Shelf Products are made with a high-end design of expandable steel tubes and molded plastic parts. All products are guaranteed for life and have a capacity of 200 pounds per unit. Products are modular, easily joining together for longer shelves using an End Bracket. Two End Brackets are included in this product. This unit includes 2 End Brackets for mounting to the back wall as in a floating shelf. See EZS-SCRW72 for installation between two sidewalls (sides of a closet) or SCRW72-1-1 for installation with 1 sidewall. See our diy closet organizers for a more complete kit - our walk-in closet organizer (K-SCRW72-5-4) and our reach-in closet organizer (EZS-K-WRI). Due to state regulations and restriction, this item cannot be shipped to State of Wisconsin.
UPC: 856686000038
EAN: 856686000038
Package Dimensions: 41.5 x 12.0 x 3.0 inches