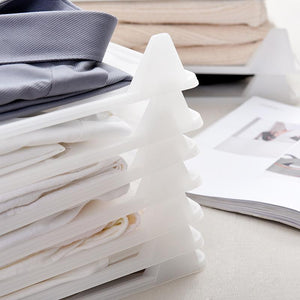 The Effortless Closet Organizer is your one stop solution to keep your wardrobe organized. 
Imagine how nice it will be to see all of your clothes neatly lined up in the wardrobe and to be able to wear any item you want easily instead of having to take the top one. 
Closest organization made easy
Perfect to keep your wardrobe clean and organized. Best for travellers and office people. 
Infinite office shelves
Can also be used as a document and file organizer, coupon organizer, bill organizer and more. 
Excellent Travel accessory
The stackable organizer system fits neatly into your suitcase to keep your clothes from bunching and wrinkling. So now you don't have to worry about messy clothes while travelling. 
Fold and sort laundry fast
Stack and organize your whole family's laundry into neat straight piles, stacked high as you need so your piles stay neat all the time.
Size: : 30 x 35 cm
Weight: 148gms each
PACKAGE INCLUDES:
10 pcs - 1999 INR
20 pcs - 3799 INR
30 pcs - 5499 INR