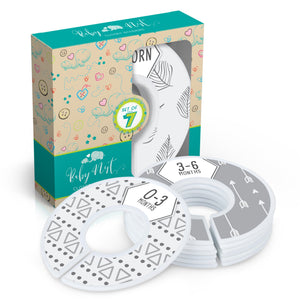 The Original Hand-Drawn Baby Closet Dividers
... Making Organization, A Work of Art
 As the original creators of fun (and cute) circle dividers for baby clothes - we know you don't really want to know about us. Because it doesn't matter that we've organized over 500,000 infant hangers for 10,000 moms just like you. Or that our hand drawn dividers are beautiful and well thought out. Or even that we're one of the only ones set of SEVEN dividers including Newborn…
… What matters is that they look and work the way you want.
So here's what else is great about our size dividers: 
Our Duri-Flex doesn't crack like rigid plastics, or crease like thin ones
They have a 1.38" diameter to fit 1.25" closet rod or smaller
Easy to read large letters, matte finish and double-sided sticker
Our round rack separator always stays upright!
Size, 3.5" round and 1/8" thick
They start with Newborn and include: 0-3 months, 3-6 months, 6-9 months, 9-12 months, 12-18 months 18-24 months.
Choose The Design That Matches Your Other Baby Essentials…
The theme of these baby dividers is Unisex Boho in gender neutral grey . We also stock Flowers n Gold, Floral Bouquet, Woodland Friends with Fox and Owl and Unicorn Fantasy in candy pastels. Find them by searching Baby Nest Designs here on Amazon. And on seeing there's a design just for you, you can order them now knowing they have a money back guarantee and lifetime warranty too.
Finally, if you're shopping for a baby shower gift, these closet separators make perfect sense. They're packaged up in a cute giftable box for that very reason!
Make baby's closet a work of art, with Baby Nest Designs
UPC 752785692801