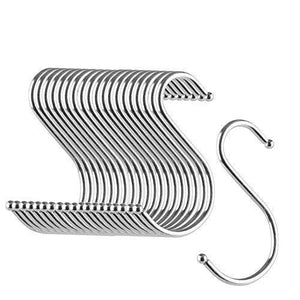 Brand: Betrome
Features:
Material: Premium Metal.
Dimension: These heavy duty S hooks comes with 20 pcs each package. length 8.4 cm / 3.3", the big end fits max 1.57" pole,and the small end fits max 0.87" pole.
Bearing Weight: The sturdy S hooks hold up to 30 lb, and each of them measures 14 g.
Wide Uses: These hanging s shaped hooks are practical to save space and great for kitchenware to organize your pans, mops, pots, spoons, utensils, coffee mugs etc. They can also be used in closet, bathroom, garage, workshop and office without the need for screws and nails.
Guarantee: If you are not satisfied with these S hooks, please feel free to contact us.
Publisher: Betrome
Details: Details:

Material: Metal s hooks.

Size: Length 8.4 cm / 3.3", width of open end about 1.57" and 0.87".

Thickness: 3.7 mm / 0.15".

Weight: 14g.

Bearing weight: over 30 lb.

Package includes: 20 pack S shaped hanging hooks.



Widely Application:

Using these S shaped hangers to hang clothes in the closet and towel in the bathroom.

Perfect for your kitchen:

With these S-Hooks, kitchen utensils, such as pans, pots, mops, spoons, hot pads, aprons will be better organized. S hooks will keep your utensil tools clean and tidy in the kitchen.

Great closet organizer:

S shaped hanging hooks can easily access to the rods, bars and shelves in you closet, perfect to hanging your hats, bags, pants, purses, ties and clothes.

Suitable for bathroom, kitchen, office, garden and garage:

The S shape hooks is suitable for hanging on existing objects, they are very powerful to hang and hold lots of weight, sleek and unnoticeable, look great.
UPC: 742186016740
EAN: 0742186016740
Package Dimensions: 12.0 x 3.8 x 0.4 inches