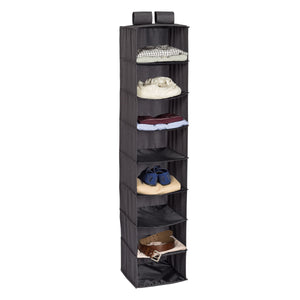 Wide shelves all for versatile clothes and shoe storage
Closet system coordinates with other Honey-Can-Do soft closet storage
Durable non-woven fabric for long-term use
Conveniently store shoes, sweaters, jeans, t-shirts, undergarments and more
Hangs over any closet rod
Dimensions: 12"L x 12"W x 54"H
SFT-08201
Your closet is like your safe haven, only it's not anymore. Piles of folded clothes are everywhere you turn and shoes are strewn all over at your feet. Simplify your closet, and thus your life, with this 6-Shelf Hanging Closet Organizer in Grey Canvas. Wide shelves make room for socks and shoes in the bottom slots, working your way up to sweaters and jeans and then your favorite t-shirts in the top slot. Then you get another idea: Get more than one and assign clothing types to each of the organizers. Now you've freed up space in your closet and, more importantly, you've decluttered your mind. A safe haven, once more.