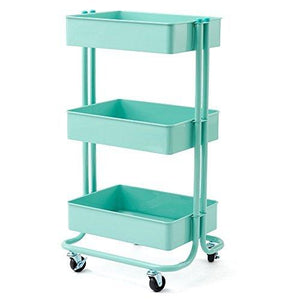 Brand: EZOWare
Color: Teal
Features:
CLEAR THE CLUTTER: EZOWare Utility Carts offer a versatile and attractive way to solve everyday essential storage and organization needs in your home, office, dorms, apartments, or any other spaces with limited storage and floor space.
FOR EVERY NEED: The all-purpose cart has endless uses, a great mobile book / study cart, file cart, bathroom storage, kids room toy storage, kitchen organizer, closet organizer, craft room storage, laundry room, cleaning supplies - it can even double as a smaller serving cart when entertaining friends and family.
BUILT TO LAST: Constructed of heavy duty metal with an attractive rust-resistant powder coating, durable material and design for long-lasting use. 3 basket shelves with mesh bottoms allow for easy storage with breathability - open air storage for clothes, books, or fruit / vegetable and dry food storage.
MOBILE STORAGE: Comes with 4 swivel caster wheels, a rolling utility cart that is easy to move from room to room in offices, garage, or workshops. 2 lock and release brake wheels to securely lock the cart into a preferred position or location.
THE SPECIFICS: Dimensions: 43 x 35 x 78.5cm (Fully Assembled). Dimensions Between Tiers: 19.6cm inches. Material: Metal. Color: Teal. Some assembly required, instructions included.
Publisher: EZOWare
Details: The EZOWare 3-Tier Utility Cart is a heavy duty solution to home & office storage and organization needs. The compact and mobile design of the cart makes it an a great option to clear clutter in any rooms with limited storage space. It has 3 basket shelves to easily store, organize, and move a wide variety of items including books, beverages, or personal items. It can even be used as a trolley when entertaining guests and family. The versatility of the cart makes it a great item to have in home, office, or dorms.

Multipurpose Utility Cart
Endless Uses
For almost any use in home, office, or dorm:
Bathroom Cart - Easily fits toiletries, brushes, blow dryer, lotions, and cosmetics.
Mobile Book Cart - Move around books and reading materials.
Kids Room Cart - Store toys, arts, crafts, and school supplies.
Kitchen Cart - Organize canned foods, vegetables, and fruits.
Craft Room Cart - Store and move ribbons, papers, paints, pencils, pens, knitting items.
Cleaning Supply Cart - Carry sprays, towels, sponges, and cleansers.
Beverage Cart - Put out drinks, mixers, glasses, and cups.
Serving Cart - Move and display plates, tableware, appetizers, treats / desserts.
Closet - Store shoes and clothes.
& many other uses

3-Tier Basket Shelves
3 shelves to stash and store a variety of items with basket style high sides and corrugated mesh bottom.
Secure and stable shelf space for a wide variety of items.

Heavy Duty Materials
The trolley is fully constructed out of rust-resistant powder coated steel with 4 metal swivel caster wheels for easy mobility. Heavy duty materials to withstand daily use and movement.

2 of wheels have lock / release breaks. An easy way to secure the cart in one location.

Specifications
Dimensions: 16.9 x 13.2 x 30.9 inches / 43 x 35 x 78.5cm (Fully Assembled).
Dimensions Between Tiers: 7.7 inches (19.6cm).
Shelf Measurements: 14.5
UPC: 885157983907
EAN: 0885157983907
Package Dimensions: 18.3 x 11.8 x 11.6 inches