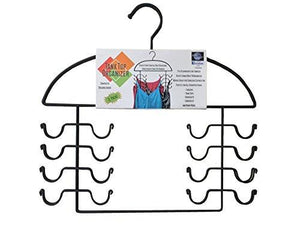 This is the 'ORIGINAL USA Design Patented Tank Top Hanger/Organizer! Competitors have imitated our item but are either 25% smaller or cheaper because they are utilizing inferior quality materials. You get what you pay for! Go for the ORIGINAL! Choose the Axis Tank Top Hanger!

Combines 8 hangers in the place of 1

Organize your closet from clutter!

Terrific for drip drying - no shrinkage! No wrinkles!

Made of rust resistant black power coated steel

Also great for kids clothes!

Color : Black

Size : Large
Axis International has a full line of USA patented home storage and organizational products for the kitchen, closet, and jewelry organization. Quality products always shipped from our Chicago, IL USA warehouse with a solution to improving all areas of your homes storage and organizational needs. Also see our Flocked Tank Top Organizers for your delicate items , White Closet shelf Divider, Legging Organizer Hangers in Black and Chrome and our Cedar Hanger Extenders.