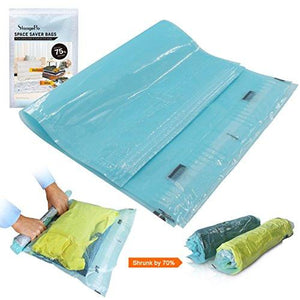 Contains 4 Large (28 x20 ), 4 Medium (24 x16 ), 4 Small (22 x14 ) space saver bags.

Compresses clothing by up to 3X in your carryon luggage, suitcase, or home closet. Super easy to use (no vacuum or hand pump needed): simply use your hands to pack, roll, and zip.

Made from high quality PA + PE that lets you reuse each bag trip after trip; protects your clothes from dirt, bugs, and moisture.

StoragePro's patented air valve design improves on other travel space bags by being lab tested 100% leak-proof. Full refund issued for any leaking bags, no exceptions.

This travel season, use these to pack more (way more) on your next getaway; or get them as a mindful present for the busy traveler in your life.thoughtful

Color : Clear / Light Turquoise

Size : 12-Pack (4 Large/4 Medium/4 Small)
Why Buy From StoragePro?
Decade long experience in designing and manufacturing space compression technology products including both flat and 3D vacuum suction bags, home closet organizers, travel roll-up bags, and more.
Innovative industry-leading designon our unique, patented 1-way air valve, which makes our bags more airtight and leak-proof than any other space saver product on the market.
Knowing our customers and all their packing needs for both travel and home use, as well as common issues with using space saver products. So don't ever hesitate to contact us for any questions!
How Much Each Size Fits
Small (21.7 x 13.8 ): Five t-shirts, two pairs of jeans, or two sweaters.
Medium (23.6 x 15.8 ): Eight t-shirts, three pairs of jeans, or three sweaters.
Large (27.6 x 19.7 ): Twelve t-shirts, four pairs of jeans, four sweaters, a blanket or bulky jacket.
Tips For Packing
Try to fold your clothes neatly before inserting them into the bag to maximize space saving. Your clothes will come out surprisingly wrinkle-free when packed properly.
Pack everything above the dashed line marked on the bag; this will make it much easier to begin rolling the bag with your hands.
When rolling the bag, pause between each successive roll to squeeze out as much air as you can. You can tell when you've squeezed enough by the sound of air slowly going out.
Do not over-pack! Bags packed to the max are difficult to compress air out of, and may slowly let air back in over time.
Scroll up and add a pack of StoragePro space saver bags to your cart today!