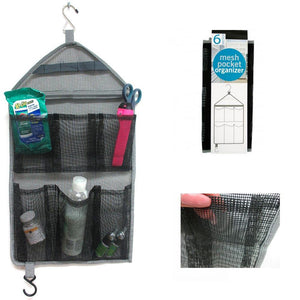 1 Hanging Mesh 6 Pockets Closet Hook Hanger Tie Scarf Storage Organizer New !!

This hanging black mesh closet organizer measures approximately 21" H x 11.5" W excluding hooks. Keep accessories organized and out of the way, a durable mesh bag with roomy pockets, an elastic hanging strip, nylon piping and hanging hooks.
Great for storing and transporting ties, socks, underwear and more. Breathable mesh prevents odors and mildew. Keep all your ties and scarf organized in your closet.
Stay organized, make more space in your wardrobe and find your clothes easier with this multi functional hanging storage shelf unit.