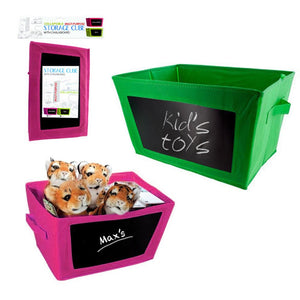 1 Pc Collapsible Storage Bin Fabric Cube Closet Toys Organizer With Chalkboard Fuschia Or Lime
These storage bins are a unique take on the multi-purpose basket.
* Available colors: Fuschia, Lime Green
In order to customize your order you can write the desired color at checkout on the "Notes" section or you
can send us an email/message after you have placed the order indicating what color you want.
Please let us know which color you prefer when making the payment.
Otherwise we will select the color for you.
Organize your closet, bedrooms, office, toy room and more with these cool multipurpose bins.
Simply place toys or clothes inside storage cube and label the chalkboard front.
When not in use, cube easily stores away to be used again.
Has rugged side handles for safer lifting and carrying.
Collapses to fold flat.
Top measures: 16" x 11.5" x 9.25" H
Bottom measures:  13.5" x 9"